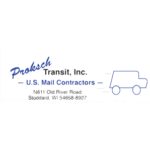 Website Proksch Transit
​Proksch Transit is searching for full and part time drivers to handle their routes throughout Southeastern Minnesota and the La Crosse area. No CDL is required – and the pay is great. You'll start between $21 and $23 per hour. Proksch also provides an incredible pension plan, contributing up to $5300 per year. The best part of the job is that your work day is broken up, so you'll have time to yourself in the late mornings/early afternoons. For more info, go to CouleeDriverJobs.com or apply now at Couleedriverjobs.com  or Indeed.com/jobs.
You must sign in to apply for this position.