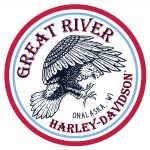 Website Great River Harley-Davidson
Motorcycle Sales
Want to work with a growing company?
Want to be excited about going to work in a fun fast paced environment every day?
Great River Harley-Davidson is looking to add more members to our team!
We're looking for individuals with a great attitude that can help take us to the next level and continue our success at making Harley-Davidson dreams come true!
Job Duties
Provide prompt, dependable, and friendly motorcycle sales experience to guests by using a dealership specific sales process.
Guide every guest through our sales process.
Connect, greet, and build rapport through understanding guests needs and buying motivation.
Properly guide guests through the fitment process through product demos while overcoming objections for immediate purchase.
Meet or exceed aggressive yet realistic and achievable daily, weekly, and monthly goals.
Track all guests and make sure all prospects are logged along with effective follow-up using a CRM system.
Actively participate in daily sales meetings, training, and coaching.
Participate in demo rides with guests.
Facilitate atmosphere of teamwork and dealership success with sales and other departments.
Maintain enthusiastic and pleasant attitude to complete guest satisfaction
Qualifications & Job Requirements
Auto or motorcycle sales experience preferred, but not required.
F & I experience a plus
Positive attitude
Team oriented
Passion for motorcycles
You must sign in to apply for this position.