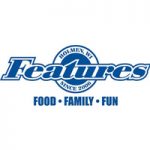 Website Features - Holmen
Food, Family, and Fun
Features in Holmen is hiring and amazing individual for our Kitchen Manager Position. As a Kitchen Manager, you would oversee all Back of House operations and be responsible for purchasing, receiving, preparing, and presenting all food products in a timely manner, according to established recipes, and procedures. If you have a passion for made-from-scratch food, apply to be a Kitchen Manager at Features in Holmen today!
As a Kitchen Manager, your responsibilities would include:
Supervising and overseeing the production and preparation of food in a manner consistent with established recipes and procedures
In conjunction with all Management, enforcing compliance with all employment policies and overseeing cleanliness of restaurant and safety of guests at all times
Directing productivity to monitor and maintain efficient and effective food item ticket times
Managing performance of Back of House employees, including conducting performance evaluations, coaching, and discipline
Assisting with the development of all Key Hourly employees, and Hourly employees by providing daily feedback on performance during one-on-ones
Conducting formal line Taste & Temp checks as part of overall responsibility for inventory and safety in the kitchen
Overseeing the proper handling, maintenance, and storage of all items
Understanding, managing, and practicing safe food handling procedures
Managing food costs, tracking waste, and controlling kitchen labor costs
Directing work for kitchen employees, including setting hours and weekly schedules and assigning tasks before, during and after open hours of the restaurant
Training Back of House staff on equipment maintenance and cleaning procedures
Reviewing applications, interviewing, and hiring or making recommendation to hire Back of House employees
Creating a safe, fun, and clean work environment for the staff in a manner consistent with our core values and operational goals.