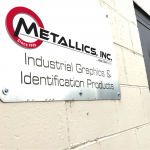 Website Metallics, Inc.
Metallics is recognized worldwide as a leading supplier of identification, decoration, and promotional products. We serve thousands of customers ranging from small start up companies to Fortune 500 companies. We are currently looking to fill an opening in our Quality Assurance Department.
POSITION SUMMARY:
Quality Office Specialists are responsible for:
ESSENTIAL DUTIES AND RESPONSIBILITIES:
1. Complete First Article Inspection (FAI), Pre-Production Part Approval Process (PPAP), and Part Submission Warrant (PSW) documentation.
2. Use online customer portals for submission of QA related documentation.
3. Communicate with customers via email and/or phone regarding submission or completion of QA related documentation.
4. Investigate root cause and corrective actions on occasion.
5. Process parts returned from customers, track progress of rework/inspection, and complete associated documentation.
6. Complete job shortage and job scrap documentation.
7. Create and distribute Corrective Action Reports (CARs) to supervisors.
8. Complete change requests.
9. Track and complete calibration of company measurement tools; manage distribution of backup calipers.
10. Confirm UL status of customer blueprints and pass along appropriate UL approval documentation.
11. Process vendor material certifications.
12. Enter data into the quality database.
13. All other duties as assigned.
QUALIFICATIONS:
To successfully perform this position, an individual must be able to perform each essential job duty satisfactorily. The requirements listed below are representative of the knowledge, skills, and/or abilities required. Reasonable accommodations may be made to enable individuals with disabilities to perform the essential functions.
· Associates Degree in a Science, Technology, Engineering, Math (STEM) related field preferred.
· Proficient in industry standard software – MS Excel, MS Word, MS Outlook.
· Effective communication skills.
· Ability to read and interpret blueprints.
· Proficient math skills as related to blueprint reading and part measurement.
· Ability to research and understand customer blueprint specifications.
· Proficient use and understanding of a dial or digital caliper.
· Attention to detail and organization.
PHYSICAL DEMANDS AND WORK ENVIRONMENT:
The physical demands and work environment described below are representative of those that must be met by an individual to successfully perform the essential functions of this job. Reasonable accommodations may be made to enable individuals with disabilities to perform the essential functions.
· This position requires an employee to remain seated in front of a computer for long periods of time.
WORK SCHEDULE:
The Quality Office Specialist position is a full-time, 40 hour per week position. The hours of this position are Monday through Friday from 7:00 a.m. – 3:30 p.m.
You must sign in to apply for this position.