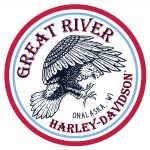 Website Great River Harley-Davidson
 Are you passionate about Harley-Davidson? Join the winning team at Great River Harley-Davidson in Onalaska as a Motorcycle Sales Representative.
The ideal candidate will be confident, engaging, friendly and courteous. Above all, they will have a passion for motorcycles and motorcycling, and are able to share that passion with others.
Our goal is to provide both the new and existing riders with a comfortable and exciting purchase experience. Do you remember how you felt when you got  your first motorcycle? That is the experience we want you to show our customers every-time. Apply now at greatriverharleydavidson.com/careers